Cristiano Ronaldo has successfully retained his IFFHS Top Goal Scorer Trophy after another season of scoring goals.
Cristiano Ronaldo is again The World's Best Top Goal Scorer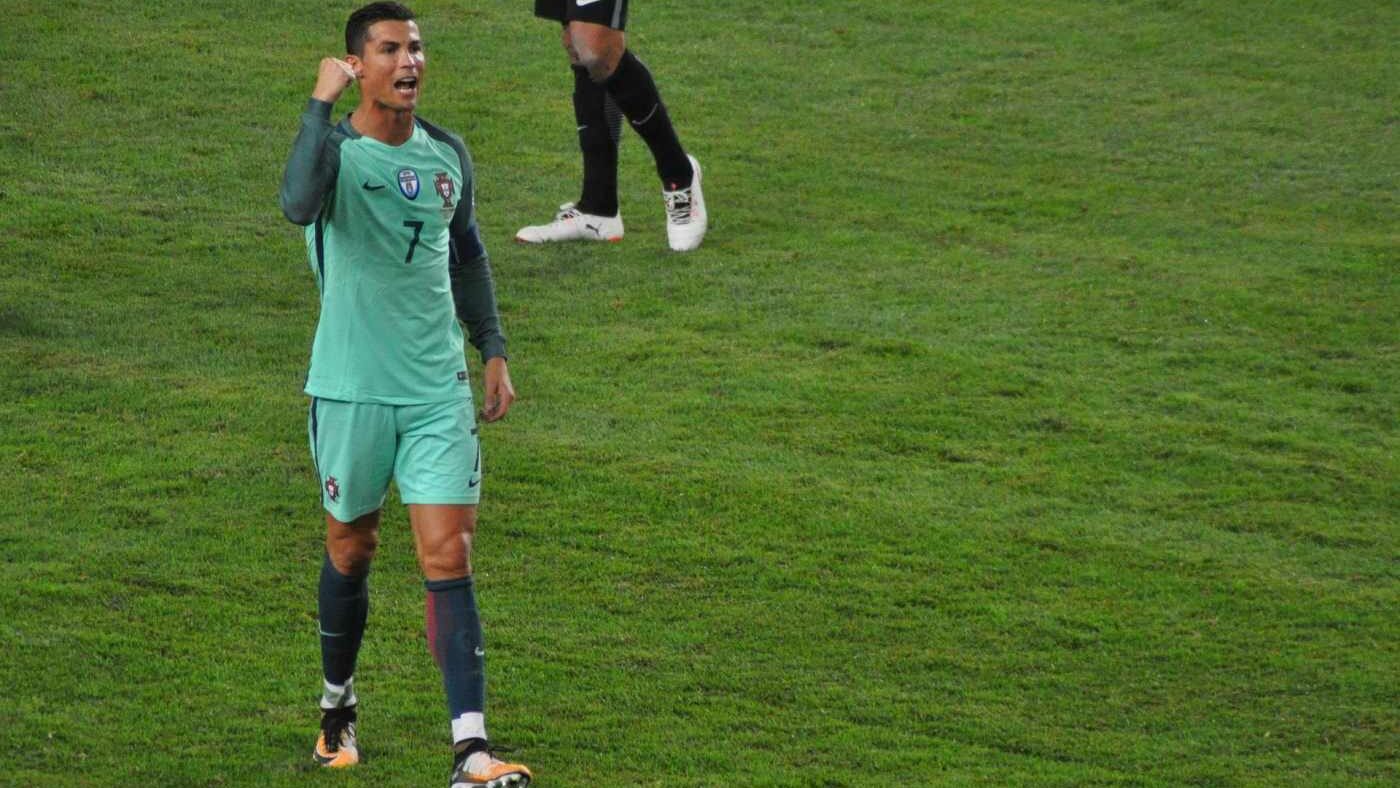 Ronaldo, after being named the UEFA Champions League Top Scorer with a record of 17 goals , the Pichichi Trophy and the European Soulier d'Or with 31 goals, ended 2014 by claiming the IFFHS Award with a total of 20 goals, five for Portugal and 15 for Real Madrid. The prolific striker had won the Award in 2013 with 25 goals and in holding his title he joined Lionel Messi (2011 and 2012) as the only players to win in successive years.
Three Spanish based players topped the voting with Ronaldo being joined by South Americans Neymar (Brazil) who finished second on 19 goals and Argentina's Messi third on 18 goals. Both play for FC Barcelona. Neymar posted the highest number of national team goals with 15 while Ronaldo had the best club score with the same total.
Three players had 10 or more goals for their national teams : Neymar (Brazil) 15, Thomas Müller (Germany) and Enner Valencia (Ecuador) 10 while six players scored 10 or more club goals : Ronaldo (Real Madrid CF) 15, Asamoah Gyan (Al Ain FC) 12, Juan Belencoso (Kitchee SC) and Luiz Adriano (FC Shakhtar Donetsk) 11 and Messi (FC Barcelona) and Nasser Al-Shamrani (Al-Hilal Riyadh) 10.
A total of 54 players scored seven or more goals. The list consisted of 22 Europeans, 14 South Americans, 9 asians, 8 Africans and one from CONCACAF. Brazil holds the highest number of goal scorers with five players, followed by Colombia, Croatia, Germany and Netherlands with 3, Belgium, Chile, England, france, Philippines, Spain and Uruguay with 2.
In club football, 34 played in Europe, 12 in Asia, 5 in Africa and 3 in CONCACAF. FC Bayern München fielded the most with five players, followed by FC Barcelona, FC Porto and Real Madrid CF with three, and then Arsenal FC, FC Red Bull Salzburg, Manchester United FC, VfL Wolfsburg and Yangon United FC with two.
Goals
Rank
Player
Country
Conf.
Club
Country
Conf.
Country
Club
Total
1
Cristiano Ronaldo
Portugal
UEFA
Real Madrid C.F.
Spain
UEFA
5
15
20
2
Neymar
Brazil
CONMEBOL
FC Barcelona
Spain
UEFA
15
4
19
3
Lionel Messi
Argentina
CONMEBOL
FC Barcelona
Spain
UEFA
8
10
18
4
Asamoah Gyan
Ghana
CAF
Al Ain FC
UAE
AFC
6
12
18
5
Karim Benzema
France
UEFA
Real Madrid C.F.
Spain
UEFA
7
9
16
6
Thomas Müller
Germany
UEFA
FC Bayern Munich
Germany
UEFA
10
5
15
7
Kyaw Ko Ko
Myanmar
AFC
Yangon United F.C.
Myanmar
AFC
6
6
12
8
Nasser Al-Shamrani
Saudi Arabia
AFC
Al-Hilal Riyadh
Saudi Arabia
AFC
2
10
12
9
Robin van Persie
Netherlands
UEFA
Manchester United F.C.
England
UEFA
8
3
11
10
Gareth Bale
Wales
UEFA
Real Madrid C.F.
Spain
UEFA
3
8
11
11
Juan Belencoso
Spain
UEFA
Kitchee SC
Hong Kong
AFC
0
11
11
11
Luiz Adriano
Brazil
CONMEBOL
FC Shakhtar Donetsk
Ukraine
UEFA
0
11
11
13
Enner Valencia
Ecuador
CONMEBOL
F.C. Pachuca
Mexico
CONCACAF
10
0
10
14
James Rodríguez
Colombia
CONMEBOL
AS Monaco
France
UEFA
9
1
10
15
Mario Götze
Germany
UEFA
FC Bayern Munich
Germany
UEFA
7
3
10
16
Mario Mandžukić
Croatia
UEFA
FC Bayern Munich
Germany
UEFA
4
6
10
17
Eduardo Vargas
Chile
CONMEBOL
Valencia CF
Spain
UEFA
7
2
9
18
Arjen Robben
Netherlands
UEFA
FC Bayern Munich
Germany
UEFA
6
3
9
19
Robert Lewandowski
Poland
UEFA
Borussia Dortmund
Germany
UEFA
5
4
9
20
Edinson Cavani
Uruguay
CONMEBOL
Paris Saint-Germain
France
UEFA
4
5
9
20
Mouhcine Iajour
Morocco
CAF
Raja AC Casablanca
Morocco
CAF
4
5
9
22
Césaire Gandzé
Congo
CAF
AC Léopards de Dolisie
DR Congo
CAF
1
8
9
23
Jonathan Soriano
Spain
UEFA
FC Red Bull Salzburg
Austria
UEFA
0
9
9
24
Wayne Ronney
England
UEFA
Manchester United F.C.
England
UEFA
8
0
8
25
Xherdan Shaqiri
Switzerland
UEFA
FC Bayern Munich
Germany
UEFA
7
1
8
26
André Schürrle
Germany
UEFA
Chelsea F.C.
England
UEFA
6
2
8
27
Ali Mabkhout
United Arab Emirates
AFC
Al Jazira Club
UAE
AFC
5
3
8
27
Danny Welbeck
England
UEFA
Arsenal F.C.
England
UEFA
5
3
8
27
Dries Mertens
Belgium
UEFA
S.S.C. Napoli
Italy
UEFA
5
3
8
30
Carlos Bacca
Colombia
CONMEBOL
Sevilla FC
Spain
UEFA
4
4
8
30
Klaas Jan Huntelaar
Netherlands
UEFA
FC Schalke 04
Germany
UEFA
4
4
8
30
Yacine Brahimi
Algeria
CAF
F.C. Porto
Portugal
UEFA
4
4
8
33
Daouda Kamilou
Niger
CAF
Cotonsport FC de Garoua
Cameroon
CAF
2
6
8
33
Jackson Martínez
Colombia
CONMEBOL
F.C. Porto
Portugal
UEFA
2
6
8
33
Oribe Peralta
Mexico
CONCACAF
Club Santos Laguna
Mexico
CONCACAF
2
6
8
36
Nguyễn Văn Quyết
Vietnam
AFC
Hà Nội T&T F.C.
Vietnam
AFC
1
7
8
37
Omar Al Soma
Syria
AFC
Al-Qadsia
Kuwait
AFC
0
8
8
37
Alan Carvalho
Brazil
CONMEBOL
FC Red Bull Salzburg
Austria
UEFA
8
8
39
Ivan Perišić
Croatia
UEFA
VfL Wolfsburg
Germany
UEFA
7
0
7
39
Khairul Amri
Singapore
AFC
LionsXII
Malaysia
AFC
7
0
7
39
Mark Hartmann
Philippines
AFC
Global F.C.
Philippines
AFC
7
0
7
39
Phil Younghusband
Philippines
AFC
Loyola Meralco Sparks
Philippines
AFC
7
0
7
39
Tim Cahill
Australia
AFC
New York Red Bulls
United States
CONCACAF
7
0
7
44
Antoine Griezmann
France
UEFA
Atlético Madrid
Spain
UEFA
5
2
7
44
Luis Suárez
Uruguay
CONMEBOL
FC Barcelona
Spain
UEFA
5
2
7
44
Vincent Aboubakar
Cameroon
CAF
F.C. Porto
Portugal
UEFA
5
2
7
47
Alexis Sánchez
Chile
CONMEBOL
Arsenal F.C.
England
UEFA
4
3
7
47
Andriy Yarmolenko
Ukraine
UEFA
FC Dynamo Kyiv
Ukraine
UEFA
4
3
7
47
Kevin De Bruyne
Belgium
UEFA
VfL Wolfsburg
Germany
UEFA
4
3
7
50
Andrej Kramarić
Croatia
UEFA
HNK Rijeka
Croatia
UEFA
2
5
7
51
Amr Gamal
Egypt
CAF
Al-Ahly SC Cairo
Egypt
CAF
1
6
7
52
César Augusto Hermenegildo
Brazil
CONMEBOL
Yangon United F.C.
Myanmar
AFC
0
7
7
52
Paulo Rangel
Brazil
CONMEBOL
Selangor FA
Malaysia
AFC
0
7
7
52
Roger Assalé
Ivory Coast
CAF
Séwé Sports de San Pedro
Ivory Coast
CAF
0
7
7